I've been DYING for this collection! On our first family vacation, my parents and I saw La Nouba, and it completely opened my eyes to what performance can be. It was seriously life changing. We've seen two or three shows that have travelled through our state since then. There was even a point in high school that I almost auditioned for a part in a show that was going to travel through Asia. Cirque is pretty much one of my favorite things ever. So the day that this collection showed up on Transdesign, I didn't even wait for any swatches to show up. Add to cart, check out, wait impatiently for them to be delivered!
I only ordered the "interesting" half of the collection, and they're all beautiful.
To start, here's Bend Over Backwards. This is just one coat, no top coat. It's a really pretty, shimmery red that feels very holiday appropriate.
Here it is with an accent nail of Whirled Away. Whirled Away is obviously related to Connect the Dots (what would Lynnderella have to say about this, I wonder?! haha), but as I've never seen it in person... I can only speculate, but the white hexes seem larger to me, and the bar glitter is only black.
Speaking of bar glitter, I actually don't hate it here! I think it's because it's just black, instead of shiny and obnoxious.
And here it is over all of my nails! This is over Zoya Carly, which I just recently showed you, because I slapped it on as soon as I got the box open!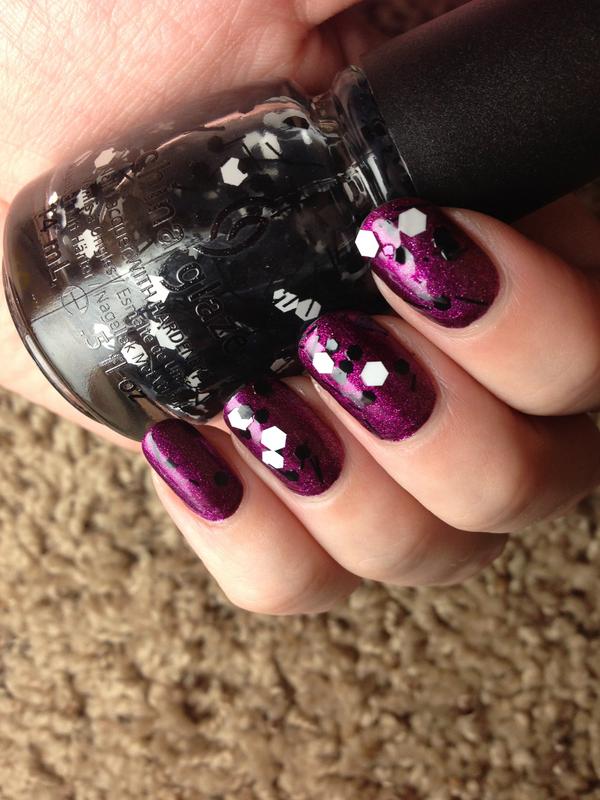 Applying Whirled Away was not my favorite experience in the world, and here's why. Check out that brush: NOTHING ON IT. I had to fish around to get anything out of the bottle. Then dabbing seemed to be the best application for me. Your milage may vary, of course.
This is Get Carried Away. Silver micro glitter, the same black bars & hexes as Whirled Away, silver hexes, and hexes that I feel are supposed to be red but instead come out a little pink? Index is one coat over black; middle is one coat over gray (Orly Mirror Mirror), ring is 2 coats and pinky is 1.
I think this is best as a layering polish, but I don't think I'll ever layer it over black. You lose the black glitter and it makes it much less interesting.
Running in Circles is a densely-packed green shimmer, and when I say dense I mean it: this is one coat! It falls somewhere between Zoya's Ivanka and Apple in terms of color. From some angles, there is some VNL, so I might layer this over a green, or do two or three thinner coats.
Water You Waiting For is small blue glitter and slightly larger purple glitter in a clear base. It dries really gritty. I put a thick coat of NYC top coat on these and took photos before it had dried, and by the time I was done taking pictures it had already started to eat it up.
I see myself wearing this as a really pretty gradient. I also see myself using peel off base!
Index is over black; middle finger is over gray (Orly Mirror Mirror), ring finger is two coats; and pinky is just one coat.
It's a Trap-eze! makes my little nerdy heart go all aflutter! Even if I didn't care about Cirque, this polish would have been mine JUST for the name! Ah, China Glaze, thank you for this.
This polish is sort of like making a jelly sandwich with a DL Happy Birthday dupe. I'm not a connoisseur of all those glitters, but I've been seeing some talk from
The Polishaholic
saying that this has white glitters that the others don't.
One coat:
And two coats.
Overall, I can't say that I can see this collection as "inspired" by Cirque du Soleil, but I'm really glad I got these! I'll wait until I see swatches of the "boring" half of the collection before I decide to get any of those.
I hope this helps you decide which ones you will be getting!